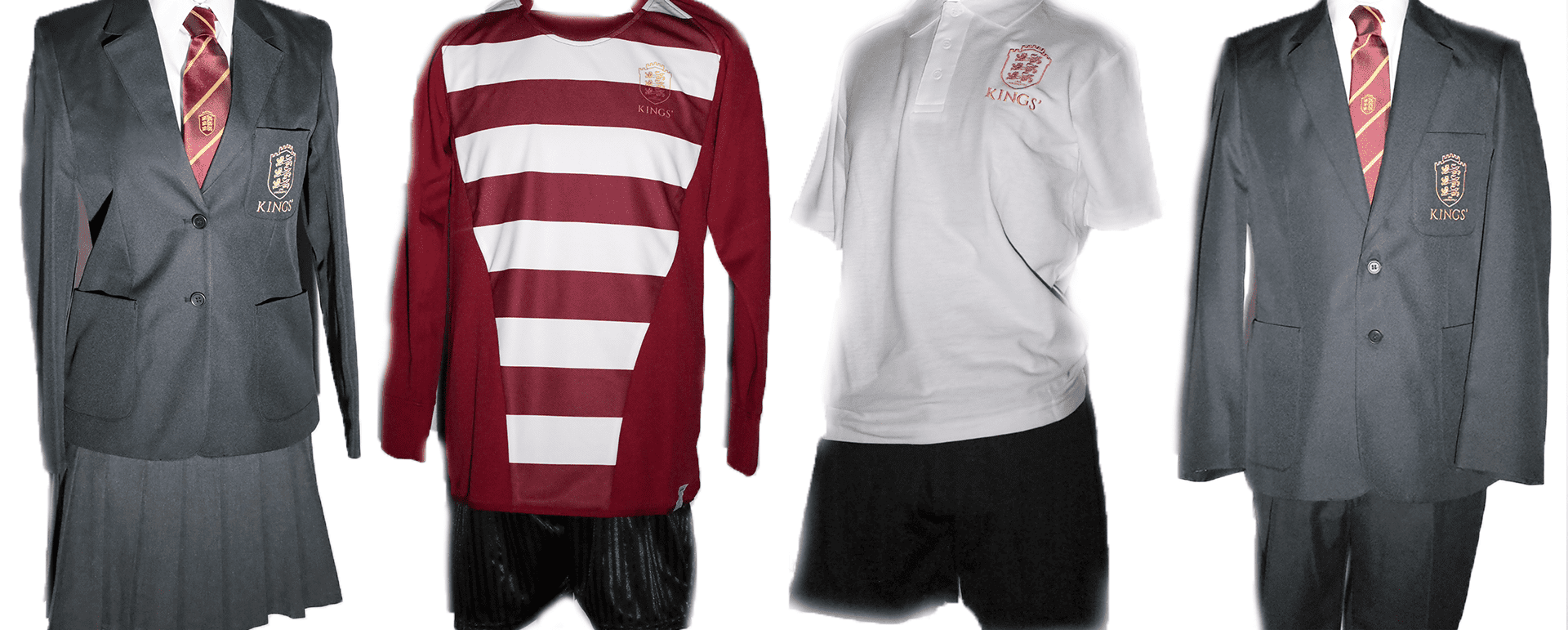 our uniform policy
At Kings' School, we are proud of ourselves and of our appearance. All pupils attending Kings' School are required to wear the correct school uniform. There is no negotiation on this point. The school uniform has been designed so that it is simple, clear, unequivocal, gender neutral (where appropriate) and easily obtainable. It is, in the first instance, the responsibility of the tutor to monitor uniform standards. All members of staff, however, should assume a corporate responsibility in maintaining the uniform regulations. Pupils are expected to maintain these standards both within and outside school, on the way to and home from school.
Kings' School Uniform Online Shop
From 3rd April 2023 we will be moving the uniform shop to an online retailer and will no longer have an 'onsite' uniform shop. Our new retailer 'Hewitts of Croydon' will allow parents to purchase uniform items online and deliver them to your home address. All order over £50 are free home delivery.
Orders under £50 can be delivered to the school for free by selecting the Click & Collect option & leaving a message in the note section saying 'deliver to school'
https://www.hewittsofcroydon.com/school-kings-school-winchester-direct-to-parent-99
Please note, lower priced items such as ties can still be purchased in the schools onsite shop, and other lower priced items such as Mitre games socks and Attach PE shorts can be purchased through a number of retailers including Amazon. For more details on where uniform can be purchased please see the 'Changes to uniform' letter below, which was included in the Headmasters newsletter on 17th March 2023
Hewitts will be holding a one-day uniform event for new starters on Saturday 15th July in the sports hall. To book a time slot on the day please use this link.
Kings' Onsite School Shop
Pupil opening times Tuesday Lunchtime
Parent opening times Thursday 10-11am
Located in the Tower
The Kings' onsite shop continues to sell lower priced branded items such as ties, along with discontinued, old crest stock. and second hand uniform. We also sell revision guides, workbooks and stationery.
Stationery will be available to purchase from the library daily.
We are only able to accept cash or cheque in the second hand shop. You can pay by card for second hand items and books, through Kings' online shop, and collect during shop opening times.
https://app.parentpay.com/ParentPayShop/Uniform/Default.aspx?shopid=116
Visit Hewitts' Online Uniform Shop
Uniform items can be purchased through the link below:
View Online Shop